"The Game and the Glory," an autobiography of Michelle Akers, is a story of perseverance, dedication, and triumph.
And that's just the first chapter.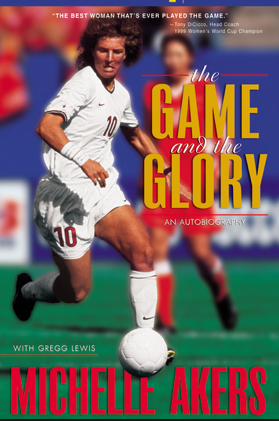 Michelle Akers is a female soccer player who played for the U.S. Women's National Team (USWNT) from its inception in 1985 until she retired in 2000. To this day she holds records for both the USWNT as well as her alma mater, the University of Central Florida.
But what makes Michelle's story so gripping is not her stats and records. Rather, it is what she had to overcome to get there.
In 1991, after finding herself to a point of insurmountable exhaustion, Michelle Akers visited a doctor to attempt to find out what was wrong with her. It was that year that Akers was first diagnosed with Chronic Fatigue Syndrome.
According to McCleary and Vernon in a study done in 2010, Chronic Fatigue Syndrome (CFS), as its name suggests, "is an illness that is marked by fatigue—a severe, incapacitating fatigue that isn't improved by bed rest and that may be worsened by physical or mental activity." What's even worse, a distinctive characteristic of the illness is "postexertional malaise, a worsening of symptoms following even very modest physical or mental exertion that can persist for days or weeks."
Imagine that as a parent. Imagine that as a working adult.
Now, imagine that as an elite athlete.
That was the life that Michelle Akers faced.
"The Game and the Glory" takes the reader on an adventure through the mind of Michelle Akers as she deals with coming to terms with living with this crippling diagnosis. Akers shares her despair, her hopelessness, her fears, and conversely her happiness, her triumphs, and her successes while living life through these difficult circumstances. But outside of soccer, this book shows the reader Akers' life off the pitch, including her parents' divorce, her college years, and her struggle with faith.
This book is gritty because it's real. Akers pulls no punches when it comes to how much life sucked at times. How the disease made her hate her body and life and how it would result in her shutting herself off from the people around her.
Yet, she was still one of the most successful women's soccer players, and more than that, the most successful athletes of all time.
http://www.youtube.com/watch?v=83Q4PSuR34c
I'd go as far to say that Michelle Akers is one of the best athletes that most of the people in our generation have never heard of. She not only was one of the best women's soccer players to play the game, but she did it while overcoming a disease that completely disables ¼ of those who are diagnosed with it. This book is a testament to the struggle that she went through, and what it took to get through something that difficult.
________________________________________________________________________________________
As a side note, ESPN recently caught up with Akers in her post-soccer days. Nowadays, Akers actually runs a horse rescue shelter. Quite a fitting next chapter for someone who always poured out her heart to those things which she committed to.